GOLDLEAF bookmark / GOLDREAM KYOTO
Product name: GOLDLEAF bookmark
Real leaves are veined, and gold leaf is applied to them little by little by hand. This is a product in which craftsmen have breathed new life into a leaf that would have decayed if left as it was. This product is a fusion of the elegance of nature and the delicate skills of Kyoto craftsmen.
<What makes us sustainable?>
Uses real leaves
Created using only natural materials
Made by hand by craftsmen (no machinery of any kind is used)
本物の葉っぱを葉脈にし、そこに手作業で少しずつ金箔を施しています。そのままだと朽ちていく葉に、職人が新しい命を吹き込んだ商品。 自然の優美さと京都の職人の繊細な技術が融合した商品です。
<サステナブルであるポイント>
本物の葉っぱを使用
自然素材のみで作成
職人の手によるもの(機械類は一切不使用)
---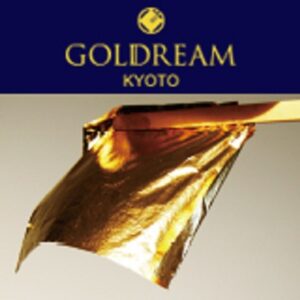 Brand name : GOLDREAM KYOTO
It has belonged to a traditional industry of kyoto since its founding(1949).Our business is gold leaf gilding of Kyoto Buddhist alters and Kyoto Buddhist alter fittings. Furthermore, we are involved in renovation and restoration of cultural assets all over the country. Especially we are particular about Kyoto's unique technique such as "Omo-oshi" and "Suriurushi-shiage". We have handed down the highest level of craftsmanship in Japan.
In recent years, not only Buddhist alters, developed into a technique that can apply gold leaf to various materials and shapes. Working with contemporary artists, producing interior goods and miscellaneous goods etc. It is attracting attention not only from Japan but also from overseas.
昭和24年創業以来、京都の伝統産業である『京仏具・京仏壇』の金箔押し業を生業都市、全国の有名な寺社仏閣、文化財などの新調・修復に携わっています。京都独特の技法『重押し』『スリ漆仕上げ』などにこだわり、日本国内でも最高レベルの職人技を伝承。機械類は一切なく、すべてが手作業であり、その技術は千年以上受け継がれています。近年では、仏具だけにとどまらない、様々な素材、形状に金箔を施せる技術に発展。現代アーティスト作品、インテリア、雑貨など幅広く金箔を施しています。