New Moon. This is the time when the moon disappears from sight. This is when the whirlpools of Naruto Strait become the largest and most powerful, along with the full moon. It is a mysterious phenomenon created by the positions of the moon and sun, and the topography.
Amour de Monstar New Moon of Naruto is an aromatic massage salt that contains a luxurious blend of Naruto sea salt, seaweed ingredients, and five essential oils inspired by the "new moon of Naruto.
It is said that the new moon means "reset" and "new start. Become a new you.
This product was developed with the hope that Amour de Monstar Naruto New Moon, filled with the power of Naruto's nature, will make your bathroom a power spot for your own positive restart.
Main ingredients
Sea salt from Naruto, Seaweed from Naruto, Lavender, Sweet Orange, Grapefruit, Juniper Berry, Clary Sage
How to use
After showering, dispense an appropriate amount into your hands and massage the body with a scrub. Naruto sea salt for scrubbing effect. The seaweed ingredients from Naruto will make your skin glow. And the five aromas will help you relax.
It is recommended that you do not rinse it off, but go straight into the bathtub to enjoy the spreading aroma. breathing slowly and deeply as you explore the five different aromas, you will feel quiet and peaceful, and your mind will be soft and relaxed.
新月。 月の姿が見えなくなるその時。 鳴門海峡の渦潮が、満月の日と並び、いちばんパワフルに大きくなります。 月と太陽の位置と、地形が生み出す神秘的な現象です。 「Amour de Monstar 鳴門の新月」は、鳴門の海塩と海藻成分、そして、「鳴門の新月」をイメージした精油5種類を贅沢に配合した、アロママッサージソルトです。 新月は「リセット」「新しいスタート」を意味するといわれています。 「新しい自分に、なる。」 鳴門の自然のパワーがたっぷり入った「Amour de Monstar 鳴門の新月」で、ご自宅のバスルームをパワースポットにあなたならではの、ポジティブなリスタートを・・・という願いを込めて開発しました。
●主な成分 鳴門の海塩 鳴門の海藻 ラベンダー スイートオレンジ グレープフルーツ ジュニパーベリー クラリセージ
●使い方 シャワーの後、適量を手に取り、ボディをスクラブマッサージしてください。 鳴門の海塩がスクラブ効果を 鳴門の海藻成分で肌艶に。 そして、5種類のアロマでリラックスが得られます。 洗い流さず、そのままバスタブに入ると、広がる香りを楽しめるので、おすすめです。5種類のアロマを探るように、ゆっくり深く呼吸をすることで、静かで穏やかな時間が流れ、気持ちがやわらかくほぐれていきます。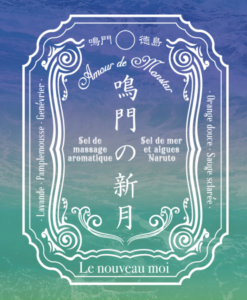 http://www.frenchmonstar.com/naruto_newmoon/
This is a local cosmetic product of Naruto developed by the French restaurant "French Monster" in Nishi-Azabu, Tokyo.
French Monster is a restaurant that uses a lot of ingredients from its hometown, Tokushima.
In Naruto City, Tokushima Prefecture, they also run a confectionary workshop, French Monster Setouchi Food Art, where they make Tokushima's famous sweets. The workshop is located next to an observatory with a spectacular view of Tokushima.
Our vision at French Monster is to "bring Tokushima to the world. That is why we developed our local cosmetics, hoping that people would feel the beauty of Tokushima not only through food but also through their bodies.
The city of Naruto in Tokushima Prefecture is home to the Naruto whirlpools, one of the three largest tidal currents in the world. The Naruto Sea is rich in marine life, full of minerals, and above all, beautiful.
We have developed a body scrub that is rich in salt and seaweed ingredients from the Naruto Sea.
The whirlpools of Naruto grow larger during the new and full moons. We wanted to convey the mystique of nature, so we named the product "Naruto's New Moon" and developed it based on the concept of "special care for a new start at the new moon.
I worked on the development of this product at the very time when I was in Corona and was deprived of the freedom to travel.
We wanted to bring you a quiet time of relaxation at home, as if you were in the wilderness of Naruto, so we scented the product with a blend of five different aromas inspired by the new moon.
As you spend your scrub massage time in the bathroom, exploring the five aromas at your own pace, you will notice that before you know it, you will be breathing deeply.
I hope you will spend some time to let go of your daily chores and become a new person.
In this way, I would like to share the natural wonders of Tokushima and Naruto with the world.