日本の伝統的工芸品である「八女提灯」を現代風にアレンジした商品です。今のように電気が普及するまで、日本のどの家庭でも使われていた提灯を、今の住空間に合うように、小さく、置く場所を選ばないデザインにしました。
This product is a modernized version of the Yame Chochin, a traditional Japanese handicraft. The chochin were used in every home in Japan before the spread of electricity as we know it today, but we have made them smaller and designed them to fit today's living spaces so that they can be placed anywhere.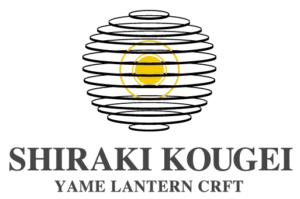 弊社は日本の伝統的工芸品である「八女提灯」の火袋や、弊社ブランド「cocolan」の製造を行っております。職人ばかりの職場としては珍しく若い職人が多い職場です。八女提灯が持つ優しく、心やすらぐ日本の灯りを大事にしながら、伝統的な提灯と先進的な提灯を開発しています。
Our company manufactures fire bags for Yame Chochin, a traditional Japanese craft, and our brand "cocolan". We have many young craftsmen, which is rare for a workplace full of craftsmen. We are developing traditional and advanced chochin while cherishing the gentle and comforting Japanese light that Yame chochin possess.