スポーツコンディショニングトレーナーやメディカルアロマセラピストとしての経験から開発された本格的なスポーツアロマジェルです。筋肉疲労や怪我の予防に役立つとされる6種類の天然精油を配合。香りと精油の力で心身にアプローチし、よりよい状態へと導きます。肌にスッとなじみ、拭き取る必要がないためスポーツ前後や、日々のメンテナンスにも気軽に使用できます。
This authentic sports aroma gel was developed based on my experience as a sports conditioning trainer and medical aromatherapist. It contains 6 types of natural essential oils that are believed to help prevent muscle fatigue and injury. The scent and the power of essential oils approach the body and mind, leading to a better state of mind and body. The gel is easily absorbed into the skin and does not need to be wiped off, so it can be easily used before and after sports or for daily maintenance.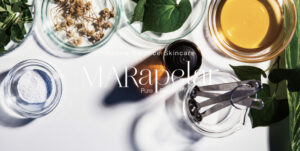 思わず深呼吸してしまう穏やかな香り。すこやかな肌に触れる心地よさ。美しくなることを、肌にも心にも負担なく楽しんでほしい。マールアペラルが目指すのは、そんなナチュラルでのびやかな美しさです。日本古来より知られる植物のちからと肌も心も癒す西洋のメディカルアロマの考えを取り入れ、様々なライフスタイルに寄り添うブランドとして2012年10月に誕生しました。等身大の女性視点で、自然環境に配慮した丁寧な商品づくりを大切にしています。
Release your mind and skin from the stress. The MAR apelar Brand is a gentle fragrance that makes you
take a deep breath with the comforting touch of clean skin. We want you to enjoy being beautiful without
any burden to your mind or sensitivity to your skin. This is the kind of natural and relaxed beauty that
MAR apelar IS. Feel the small happiness of everyday life and weave warm moments with your family and
loved ones. MAR apelar was created in October 2012 as a brand that can comfortably accompany you for
a long time, incorporating the power of plants known since ancient times in Japan and out of the idea of
Western medicinal aromatherapy that heals both the skin and mind.