Product name: Faith Lamellar Mode Precare Essence C
PRECARE ESSENCE C-3 Bottles
THE INNOVATIVE COLLAGEN TREATMENT AT THE Formulated through a seven-day process,
PRECARE ESSENCE C delivers patented Faith Fresh Collagen deep into the skin.
Collagen is wrapped around nanocapsules — the key to this revolutionary treatment.
Composed of phospholipids which protect cells and give them their structure,
our microscopic nanocapsules have the ability to deliver ingredients deep into the stratum corneum
(outermost layer of the epidermis.) Mixed with the purified vitamin C water,
the nanocapsules are activated, releasing phospholipids and collagen that rapidly repair
and reinforce the skin, while also protecting it from future damage. Visible firmness and elasticity
are increased while the appearance of fine lines is minimized.
We are dedicated to creating a product whose formulations will never harm your skin.
Since the beginning of our business more than 35 years, we are dedicated to providing clean skin care products
which do not include any kind of the following preservatives -Synthetic surfactants, Parabens, Phenoxyethanol, Mineral oil, Colorants, and Fragrance."
フェースラメラモードプレケアエッセンスC
PRECARE ESSENCE C-3 Bottles
特許取得のフェース生コラーゲンを肌の奥まで届けます。フリーズドライ(凍結乾燥)させたエッセンスを、
使用時にビタミンCが入ったウォーターで溶かす、新しいタイプの美容液です。ビタミンC配糖体をはじめ、
有用成分をフェース生コラーゲンに内包し、肌深部に確実に届ける事で肌の土台を強化します。角層と肌深部に多角的に働きかける事で、
透明感あふれる肌へ導き、乾燥による小ジワを目立たなくします。
創業以来35年以上、合成界面活性剤、パラベン、フェノキシエタノール、鉱物油、着色料、香料などの防腐剤を一切使用しない
クリーンなスキンケア製品を提供することに専念しています。
---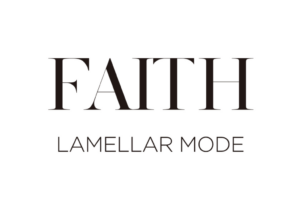 Brand name : Faith Lamellar Mode
"We do not use ingredients that may be negative for your skin."
For more than 35 years since our establishment in 1987, we have been avoiding the use of preservatives
such as paraben, phenoxyethanol, fragrance, color, ethanol, and mineral oil.
Faith Cosmetics America Inc. is a subsidiary of Faith Inc. Japan, a renown leader of skin care technology,
specifically creating the world's most powerful collagen delivery system.
Faith Cosmetics America was founded on the belief that women have a right to products
that are free of harmful chemicals, yet effective .
フェース ラメラ モード
フェースは1987年の創業以来の35年余り「お肌に直接触れる化粧品は、人間にとって心地良く、肌に優しいもの」と考え、
成分へのこだわりを大切に商品をつくっています。パラベンやフェノキシエタノール等の防腐剤や
香料・色素・エタノール・鉱物油、それに石油由来の合成界面活性剤なとの使用は極力避けています。
Faith Cosmetics America Inc.は世界で最も強力なコラーゲン・デリバリー・システムを開発したフェースジャパンの子会社です。
Faith Cosmetics Americaは、女性には有害な化学物質を含まず、
しかも効果的な製品を手に入れる商品があるという信念のもとに設立されました。