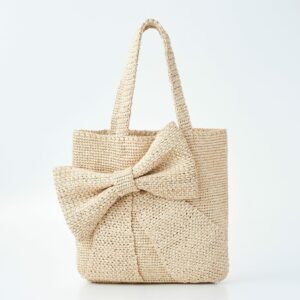 Product name:  Ribbon Bag
A bag with such a big ribbon is sure to stand out. It's not too sweet and has a mature and cute design.
これでもか!というぐらいの大きなリボンが付いたバッグは、目立つこと間違いなしです。甘くなりすぎず、大人可愛いデザインに仕上げました。
---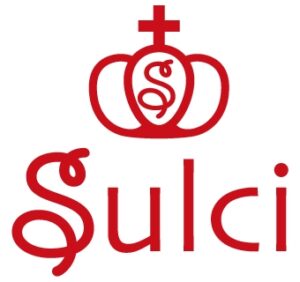 Brand name : Sulci
Sulci has our own workshop in Cebu, Philippines, and provides crochet training to local women who want to work but have no jobs. Women make bags using natural material raffia (a type of palm tree, raffia leaf fiber) and crochet. Currently, there are about 50 crocheters in the local area, and we have a consistent production system from procuring yarn to finishing the bag, and we are making sustainable products. Raffia bags with a wide variety of designs are lightweight, durable and flexible, and have good breathability. Our bags are sold at major department stores in Japan, select shops and web shops in Japan and overseas.
スルシィはフィリピン・セブ島に自社工房を構え、現地の働きたくても仕事がない女性たちに編み物の技術トレーニングをし、天然素材ラフィア(ヤシの木の一種・ラフィアの葉の繊維)で、かぎ針を使用しバッグを制作しています。現在現地には約50人の編み子さんがおり、糸の調達からバッグの仕上げまで一貫した生産体制を取り、持続可能なモノづくりをしています。デザインも豊富なラフィアバッグは、軽くて耐久性と柔軟性に富み、通気性がよいのも大きな魅力です。バッグは大手百貨店やセレクトショップ、国内外のwebショップで販売しています。
---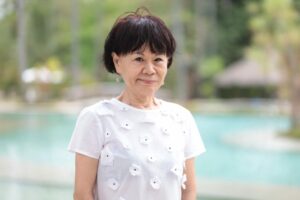 Brand owner : Satomi Sekiya
After graduated art college she had her own brand as a knit designer and sold the items she designed on boutiques. Then she ran her own shop in Tokyo for 25 years. In 2011, she established the raffia bag brand Sulci.