gold paint asymmetry earrings / CHICCA glass accessory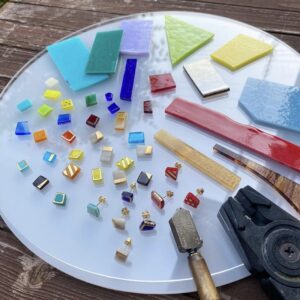 Product name:  gold paint asymmetry earrings
It is a work in which lines and patterns are printed with GOLD on colored glass.
This series was born from scraps of scraps when making works.
カラー硝子にラインや模様をGOLDで焼き付けた作品です。作品を作る際の端材のカケラから生まれたシリーズです
---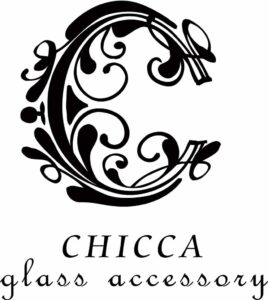 Brand name :  CHICCA glass accessory
"With the theme of "accessories that enhance fashion",
each piece is handmade from glass using techniques such as fusing and lumpwork.
Utilizing the beautiful and lustrous expression, shimmer, deep and clear transparency,
and vivid colors of glass. Using this material, which is full of charm,
we have created a playful design with asymmetric patterns and shapes.
Please feel the delicacy of accessories born from Japanese handicraft skills.
『ファッションをより楽しむアクセサリー』をテーマに フュージング、トンボ玉(ランプwork)などの技法を用いて
一点一点ガラス素材よりハンドメイドで仕立てています。 硝子の持つ美しく艶やかな表情、煌めき、深く澄んだ透明感、
鮮やかな彩り 魅力溢れるこの素材を用いて、アシンメトリーな模様や形で遊び心を楽しむデザインに仕立てています。
---
Brand owner : Makiko Hata
She started as her brand because she encountered the craft of working
with glass at the glass lampshade factory where her father worked.
She create original glass accessories with her own ideas and production methods.