Facial Soap Oshu Sabon Premium 〜luxury moist〜 / FERMENSTATION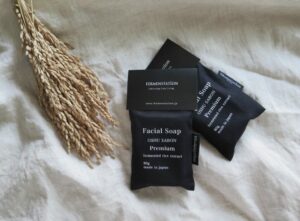 Product name:  Facial Soap Oshu Sabon Premium 〜luxury moist〜
A luxurious facial soap made from organic rice and fermented lees with moisturizing effect.
Blended with choice vegetable extract oils, the lather will gently wrap your skin.
Feel the difference after every wash of a moist and revived skin.
Unscented but with a hint of sweet smell of rice
オーガニック玄米を麹と酵母で発酵させた「米もろみ粕」をそのまま入れた贅沢石けん。保湿に富んだ「米もろみ粕」と、
米ぬか、ホホバ、椿などの厳選した植物オイルをバランスよく配合。泡立ち良く、ふんわりお肌を包み込みます。洗い上りは、
何度でも素肌を触りたくなる、しっとり感。香りはつけず、素材ならではのお米の甘い香りです。
---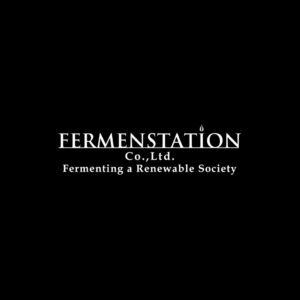 Brand name :  FERMENSTATION
Fermentstation is an R&D oriented company creating a circular economic society
through its original fermentation technology. We produce alcohol by fermenting and distilling unused resources.
The fermented residue will be used as functional cosmetic ingredients, animal feed for hens and cattle,
and further use the manure from the animals as fertilizers. In cooperation with local communities,
we have established a circular and sustainable system where there is
no byproduct that is considered waste. "Fermenting a Renewable Society "
With this phrase as our purpose,we will find new value in unused resources and build a society
in which these are reborn, regenerated and circulated. By passing through the "station"
called Fermenstation,our natural environment, our society,
all the people involved,and our stakeholders will continue to become better,and it is our mission to create
such a world,making tomorrow a better place.
Fermenstation is a B Corp certified company committed to use business as a force for good.
B Corp is an international certification that certifies companies conducting business activities
that generate multifaceted and comprehensive benefits for local communities, the environment,
customers, and its employees.
ファーメンステーションは独自の発酵技術で未利用資源を再生・循環させる社会を構築する研究開発型スタートアップです。
未利用資源を発酵・蒸留してエタノールを製造。残った発酵粕は化粧品の「原料」や鶏・牛の餌に活用し、
さらにその鶏糞や牛糞は畑や田んぼの肥料にするなど、ごみを出さないサステナブルな循環を地域コミュニティーと一緒に作っています。
サステナブルな循環を全てのプロセスに組み込み、パートナーとのコラボレーションを通じて化粧品・日用品・雑貨の商品開発を行っています。
わたしたちのパーパスは、"Fermenting a Renewable Society "。この言葉をパーパスとして、私たちは、
未利用資源に新たな価値を見出し、これらが生まれ変わり、再生・循環する社会を構築します。自然環境や社会、関係する全ての人々、
ステークホルダーが、ファーメンステーションという「駅」を通過することで、前より良くなり続ける、
そんな世の中を作っていきたいと考えています。 ファーメンステーションは、地域社会、環境、カスタマー、
従業員に対して多面的・包括的な利益を生む事業活動を実践する企業を認証する国際的な制度「B Corp 認証」を取得しています。
---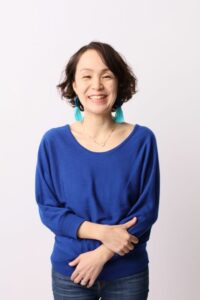 Brand owner : Lina Sakai
Lina holds a degree from the Department of Brewing and Fermentation Science at the Tokyo University
of Agriculture. She has also graduated from the International Christian University.
Prior to establishing Fermenstation, she worked at the Fuji Bank, Ltd. (currently, Mizuho Corporate Bank, Ltd.)
and Deutsche Securities Inc. Lina's achievements include the 1st Beauty tech special award,
the Audience Award at Global Brains Alliance Forum 2018, Special Award at JR East Startup Demo Day 2018,
the Development Bank of Japan (DBJ) 3rd Women Entrepreneurs New Business Plan Competition,
Special Innovation Award and the 2014 British Business Award for her contribution to the community.